nevada historical markers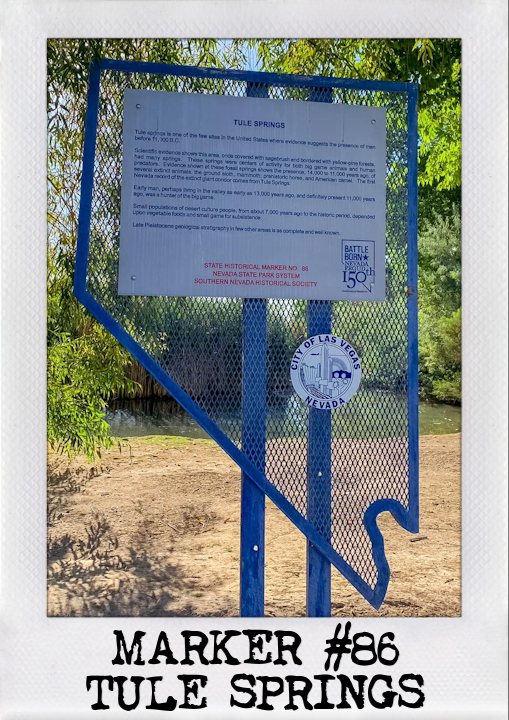 #86 - TULE SPRINGS
location:
Near one of the ponds at Tule Springs
Tule Springs is one of the few sites in the U.S. where evidence suggest the presence of man before 11,000 B.C.
Scientific evidence shows this area, once covered with sagebrush and bordered with yellow-pine forests, had many springs. These springs were centers of activity for both big game animals and human predators. Evidence found at these fossil springs shows the presence, 14,000 to 11,000 years ago, of several extinct animals--the ground sloth, mammoth, prehistoric horse and American camel. The first Nevada record of the extinct giant condor comes from Tule Springs.
Early man, perhaps living in the valley as early as 13,000 years ago and definitely present 11,000 years ago, was a hunter of the big game. Small populations of Desert Culture people, about 7,000 years ago to the historic period, depended upon vegetable foods and small game for subsistence.
Late Pleistocene geological stratigraphy in few other areas is as complete and well known
personal note:
This is one of my favorite parks in the Las Vegas area. It is absolutely gorgeous in the autumn when the leaves have started to turn yellow and collect among the desert floor.


Deep in the heart of the golden west, home means nevada to me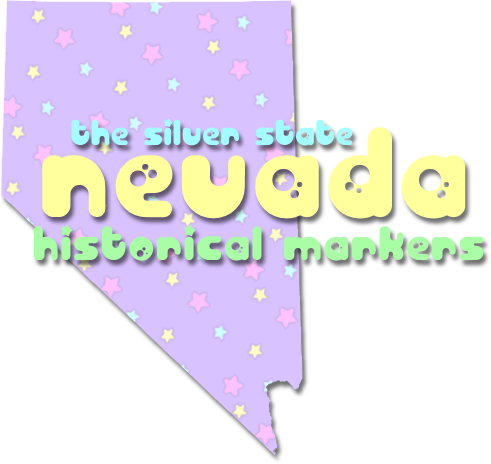 The Nevada State Historical Marker Program was launched in 1964 for Nevada's centennial to commemorate events such as the Old Spanish Trail in Southern Nevada and the great train robbery in Verdi, west of Reno.
These roadside markers bring attention to the places, people, and events that make up Nevada's heritage. They are as diverse as the counties they are located within and range from the typical mining boom and bust town to the largest and most accessible petroglyph sites in Northern Nevada.
I started visiting the markers around my city during quarantine and I found that I enjoyed learning about the history of the land. I've almost seen all of the ones that are in my city and I hope to one day be able to visit more of the rural locations.
It's almost like a treasure hunt because you never know if the marker is going to still be standing in the original location or not. Over the years, the State Historic Preservation Office has decommissioned some markers because vandalism persists at certain sites or because marking some locations no longer seems appropriate for various reasons.
Thank you to Nevada Department of Transportation which has contributed considerable funding to maintain the markers for the last decade.
Other Important Sites:
Nevada State Historical Preservation Office
||
Nevada Landmarks's List
||
A Guide To Nevada's Historical Markers
271
The number of markers in the Nevada system.
23
The number of markers I have seen.
248
The number of markers I still need to see.