nevada historical markers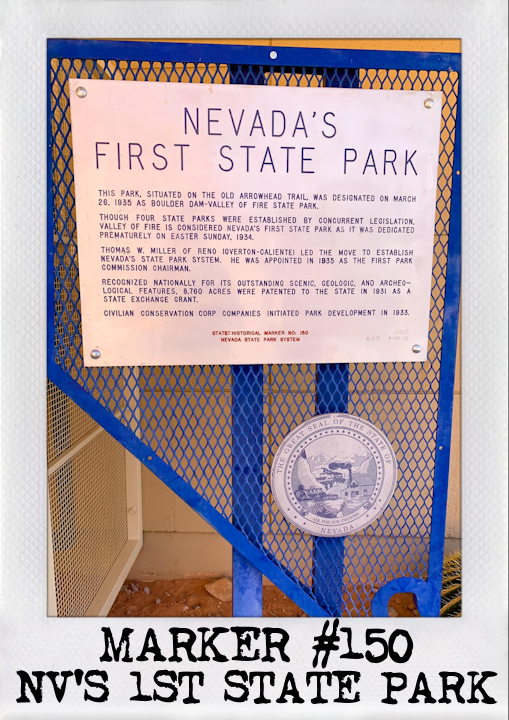 #150 - NEVADA'S FIRST STATE PARK
location:
Outside the visitor center at Valley of Fire
This park, situated on the old Arrowhead Trail, was designated on March 26th 1935, as Boulder Dam-Valley of Fire State Park. Though four state parks were established by concurrent legislation, Valley of Fire is considered Nevada's first state park as it was dedicated prematurely on Easter Sunday, 1934.
Thomas W. Miller of Reno (Overton-Caliente) led the move to establish Nevada's state park system. He was appointed in 1935 as the first park commission chairman.
Recognized nationally for it's outstanding scenic, geologic, and archeological features, 8,760 acres were patented to the state in 1931 as a state exchange grant.
Civilian conservation corp companies initiated park devlopment in 1933.
personal note:
This was my first visit to Valley of Fire even though I have lived in the state for almost a decade. It is not to be skipped out on. It was too hot (FOR ME) to do any hiking so I can't wait to return when its cooler outside. I did get to see the petroglyphs at Atlatl Rock. Mouse's Tank Road provides amazing r/RoadPorn if you're into that kind of thing. I don't judge ;)


Deep in the heart of the golden west, home means nevada to me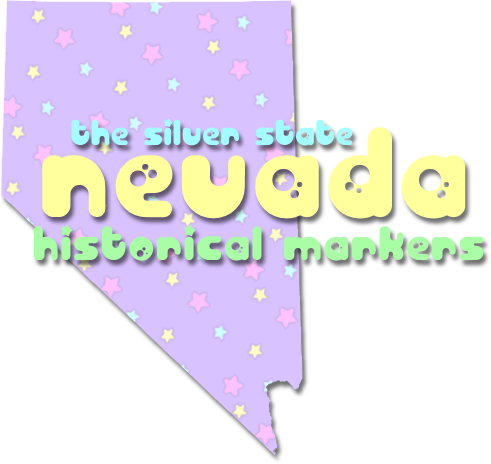 The Nevada State Historical Marker Program was launched in 1964 for Nevada's centennial to commemorate events such as the Old Spanish Trail in Southern Nevada and the great train robbery in Verdi, west of Reno.
These roadside markers bring attention to the places, people, and events that make up Nevada's heritage. They are as diverse as the counties they are located within and range from the typical mining boom and bust town to the largest and most accessible petroglyph sites in Northern Nevada.
I started visiting the markers around my city during quarantine and I found that I enjoyed learning about the history of the land. I've almost seen all of the ones that are in my city and I hope to one day be able to visit more of the rural locations.
It's almost like a treasure hunt because you never know if the marker is going to still be standing in the original location or not. Over the years, the State Historic Preservation Office has decommissioned some markers because vandalism persists at certain sites or because marking some locations no longer seems appropriate for various reasons.
Thank you to Nevada Department of Transportation which has contributed considerable funding to maintain the markers for the last decade.
Other Important Sites:
Nevada State Historical Preservation Office
||
Nevada Landmarks's List
||
A Guide To Nevada's Historical Markers
271
The number of markers in the Nevada system.
23
The number of markers I have seen.
248
The number of markers I still need to see.