nevada historical markers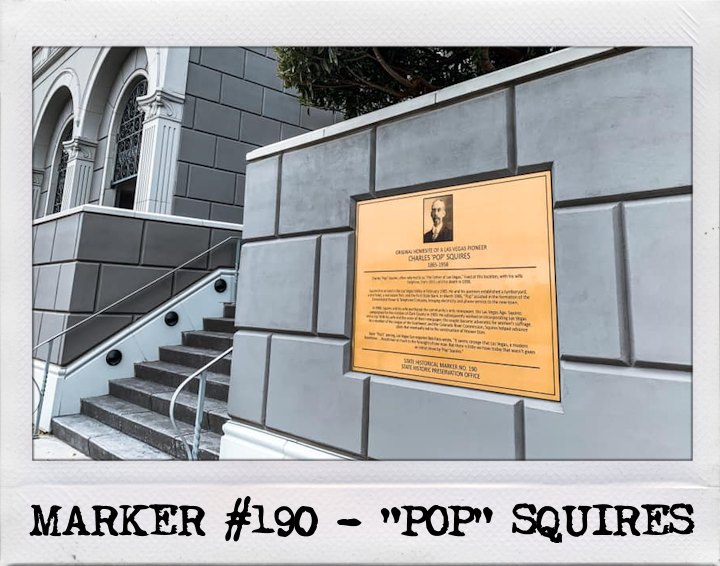 #190 - ORIGINAL HOMESITE OF A LAS VEGAS PIONEER "POP" SQUIRES 1865-1958
location:
7th & Stanley W Cooper, Las Vegas
Charles "Pop" Squires, often referred to as "the Father of Las Vegas," lived at this location, with his wife Delphine, from 1931 until his death in 1958.
Squires first arrived in the Las Vegas Valley in February 1905. He and his partners established a lumberyard, a tent hotel, a real estate firm, and the First State Bank. In March 1906, "Pop" assisted in the formation of the Consolidated Power & Telephone Company, bringing electricity and phone service to the new town.
In 1908, Squires and his wife purchased the community's only newspaper, the Las Vegas Age. Squires campaigned for the creation of Clark County in 1909. He subsequently worked on incorporating Las Vegas into a city. With his wife and the voice of their newspaper, the couple became advocates for women's suffrage. As a member of the League of the Southwest and the Colorado River Commission, Squires helped advance plans that eventually led to the construction of Hoover Dam.
Upon "Pop's" passing, Las Vegas Sun reporter Bob Faiss wrote, "It seems strange that Las Vegas, a modern boomtown … should owe so much to the foresight of one man. But there is little we have today that wasn't given an initial shove by 'Pop' Squires."
personal note:
n/a


Deep in the heart of the golden west, home means nevada to me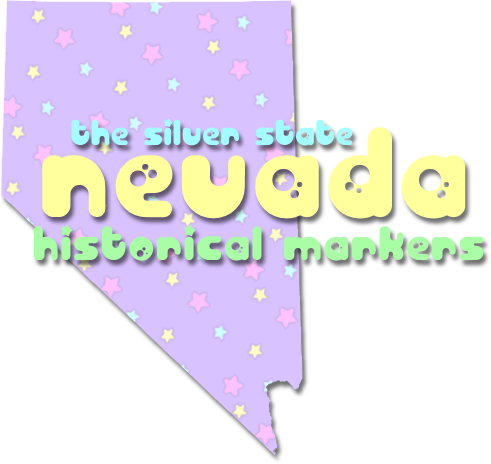 The Nevada State Historical Marker Program was launched in 1964 for Nevada's centennial to commemorate events such as the Old Spanish Trail in Southern Nevada and the great train robbery in Verdi, west of Reno.
These roadside markers bring attention to the places, people, and events that make up Nevada's heritage. They are as diverse as the counties they are located within and range from the typical mining boom and bust town to the largest and most accessible petroglyph sites in Northern Nevada.
I started visiting the markers around my city during quarantine and I found that I enjoyed learning about the history of the land. I've almost seen all of the ones that are in my city and I hope to one day be able to visit more of the rural locations.
It's almost like a treasure hunt because you never know if the marker is going to still be standing in the original location or not. Over the years, the State Historic Preservation Office has decommissioned some markers because vandalism persists at certain sites or because marking some locations no longer seems appropriate for various reasons.
Thank you to Nevada Department of Transportation which has contributed considerable funding to maintain the markers for the last decade.
Other Important Sites:
Nevada State Historical Preservation Office
||
Nevada Landmarks's List
||
A Guide To Nevada's Historical Markers
271
The number of markers in the Nevada system.
23
The number of markers I have seen.
248
The number of markers I still need to see.